Lifeplan Iron Formula
Buy Lifeplan Iron Formula + Vitamin B & Vitamin C - 150 tablets safely from our Online Health Food Store UK
Brand:
Lifeplan
Stock:
3 in stock
---
Price:
---
---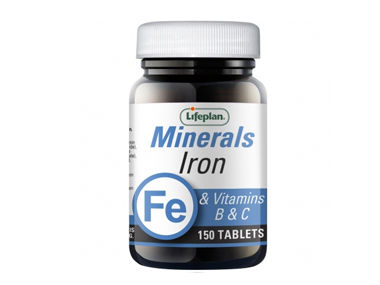 Lifeplan Iron Formula + Vitamin B & Vitamin C - 150 tablets
Description
Iron contributes to both normal cognitive function and that of the immune system.
It plays a role in the normal formation of red blood cells and haemoglobin and helps in the transport of oxygen in the body.
Iron, along with Vitamin C, also helps to maintain normal energy production and contributes to the reduction of tiredness and fatigue.
Vitamin C helps to increase the absorption of iron.
Directions
Take one tablet twice daily, preferably with a little liquid
Ingredients
Bulking Agent (Microcrystalline Cellulose), Ferrous Gluconate, Bulking agent (Dicalcium Phosphate), Vitamin C (Ascorbic Acid, Hydroxy Propyl Methyl Cellulose) Beef Liver Powder, Stearic Acid*, Dried Yeast (Gluten, Sulphur)**, Vitamin B12 (Dicalcium Phosphate, Cyanocobalamin), Vitamin B3 (Nicotinamide), L-Lysine Hydrochloride, Choline Bitartrate, Vitamin B2 (Riboflavin), Vitamin B1 (Thiamin Hydrochloride), Inositol, Rosehip Extract, Vitamin B6 (Pyridoxine Hydrochloride), Vitamin B5 (Calcium Pantothenate), Vitamin B7 (D-Biotin), Para Amino Benzoic Acid.
* From vegetable source
** For allergens see ingredients in bold.

Nutrition Information
Each tablet typically provides
%NRV*
Vitamin C
33mg
41
Iron
8mg
57
Niacin (B3)
2.4mg NE
15
Riboflavin (B2)
1.5mg
107
Inositol
1mg
-
Lysine
1mg
-
Thiamin (B1)
0.75mg
68
Choline
0.74mg
-
Pyridoxine (B6)
0.5mg
35
D-Biotin (B7)
0.2mg
400
Vitamin (b12)
2µg
80
ALSO PROVIDES
Beef Liver Powder
33mg
Dried Yeast
5mg
Rosehip Extract
1mg

Para Amino

Benzoic Acid
%NRV = Nutrient Reference Value

Do not exceed the recommended intake.
Do not use as a substitute for a varied diet and healthy lifestyle.
---
Important Note: Before use (or consumption if applicable) please always check the label/leaflet/manual of the product for allergens!
---
Buy real Lifeplan products in the United Kingdom
As official Lifeplan stockist in the UK, we sell quality Minerals A - Z to customers throughout the UK in England, Wales, Scotland and Northern-Ireland.
Based in rural Leicestershire, Lifeplan began in 1983 with just 33 products.
View more products on the Online Health Food Store from Lifeplan.
---
Where to buy Lifeplan Iron Formula safely online?
Shop at the Online Health Food Store if you are wondering where you can buy Lifeplan Iron Formula + Vitamin B & Vitamin C - 150 tablets safely online in the United Kingdom.
Our Health Shop is located in the UK and our award-winning independent has been serving customers in England, Wales, Scotland and Northern-Ireland since 1976. You can buy our Vitamins, minerals and supplements and other quality Minerals A - Z online and we post out orders to any UK address.
---