Mag365 Unflavoured 150g
Buy Mag365 Magnesium Powder 150g Unflavoured safely from our Online Health Food Store UK
Brand:
Mag365
Stock:
1 in stock
---
Price:
---
---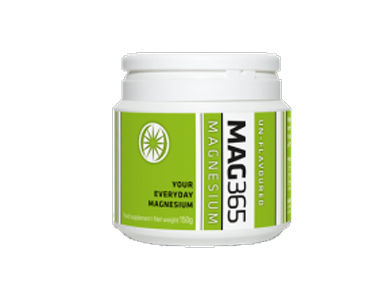 Mag365 Magnesium Powder 150g Unflavoured
Mag365 magnesium supplement is a proprietary process that provides the most absorbable, effective, fast acting magnesium available anywhere. It is 100% natural magnesium and helps to dissolve excess calcium in the body. Relief to many symptoms of magnesium deficiency.
Magnesium and calcium are fundamental nutrients that need to be in balance with each other in order for you to fully experience good health. Their importance on a cellular level is critical. Calcium and magnesium are like opposite sides of a coin. Calcium makes muscles contract. Magnesium is necessary for muscles to relax. Calcium excites nerves, while magnesium calms them down. Calcium is needed for blood clotting, but magnesium keeps the blood flowing freely. In our opinion, people are more magnesium deficient than calcium deficient.
Ingredients:
Ionic Magnesium Citrate (Proprietary blend of magnesium carbonate and citric acid, which, when combined with hot water, creates magnesium citrate.) No sweeteners or artificial flavours.
Suitable for vegans and vegetarians
---
Important Notes:
- Products labelled gluten free, egg free and/or dairy free may still contain traces of allergens.
- Before use (or consumption if applicable) please always check the label/leaflet/manual of the product for allergens!
---
Buy real Mag365 products in the United Kingdom
Our UK Health Shop sells real Mag365 and other Minerals A - Z from top-quality brands safely online to customers throughout the United Kingdom in England, Wales, Scotland and Northern-Ireland.
View more products on the Online Health Food Store from Mag365.
---
Where to buy Mag365 Unflavoured 150g safely online?
Shop at the Online Health Food Store if you are wondering where you can buy Mag365 Magnesium Powder 150g Unflavoured safely online in the United Kingdom.
Our Health Shop is located in the UK and our award-winning independent has been serving customers in England, Wales, Scotland and Northern-Ireland since 1976. You can buy our Minerals A - Z online and we post out orders to any UK address.
---