Salus Floradix Iron Tablets
Order Floradix® - Iron and Vitamin Tablets - 84 tablets and other quality Salus products online from our UK Health Food Shop
Brand:
Salus
Stock:
2 in stock
---
Price:
---
---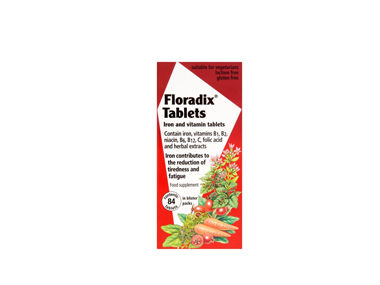 Floradix® - Iron and Vitamin Tablets - 84 tablets
Floradix Tablets contain organic iron (II) from ferrous gluconate,vitamins B2, B6, B12 and C which contribute to the reduction of tiredness and fatigue and to normal energy-yielding metabolism. Iron contributes to normal red blood cell formation (supported by the vitamins B6 and B12) and haemoglobin formation. In addition, folate (folic acid) contributes to normal maternal tissue growth during pregnancy. Furthermore, vitamin C increases iron absorption.

Floradix Tablets contain iron from ferrous gluconate which is a particularly absorbable form.
Floradix Tablets are easy to take and help safeguard the balance of iron, vitamins B1, B2, B6, B12, C and folic acid.
Floradix Tablets contain extracts of selected herbs and rosehip.
Floradix Tablets are gluten free and suitable for vegetarians.
Floradix Tablets are suitable for women including those planning to conceive, expectant and lactating mothers, children, adolescents, the elderly, convalescents, vegetarians and those with an active lifestyle.
Directions:
Adults and children over 12 years: 1 tablet, twice daily
Children 3 - 12 years: 1 tablet daily
TIP: It is best to take iron on an empty stomach to ensure full absorption – so ideally 30 minutes before food or a couple of hours after. Avoid taking iron supplements with tea, coffee or milk as they can inhibit the absorption. Drinking orange juice or any other fruit juice together with iron supplements can actually help to increase the iron absorption due to the vitamin C content.
always read the label
---
Important Note: Before use (or consumption if applicable) please always check the label/leaflet/manual of the product for allergens!
---
Buy real Salus products in the United Kingdom
As official Salus stockist in the UK, we sell quality Multi-vitamins to customers throughout the UK in England, Wales, Scotland and Northern-Ireland.
Salus, also known as Floradix, sells a wide range of health elixirs and herbal teas.
View more products on the Online Health Food Store from Salus.
---
Where to buy Salus Floradix Iron Tablets safely online?
Shop at the Online Health Food Store if you are wondering where you can buy Floradix® - Iron and Vitamin Tablets - 84 tablets safely online in the United Kingdom.
Our Health Shop is located in the UK and our award-winning independent has been serving customers in England, Wales, Scotland and Northern-Ireland since 1976. You can buy our Floradix elixirs and teas and other quality Multi-vitamins online and we post out orders to any UK address.
---