Viridian Woman 40+ Multi - 60 caps
Buy Viridian Woman 40+ Multi - 60 vegetarian capsules safely from our Online Health Food Store UK
Brand:
Viridian
Stock:
3 in stock
---
Price:
---
---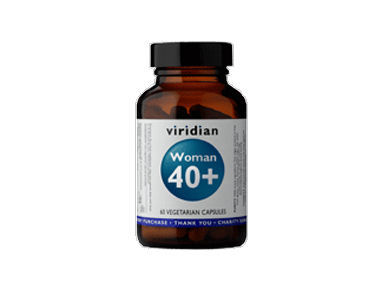 Viridian Woman 40+ Multi - 60 vegetarian capsules
Vitamins and minerals for women over 40
More than just a multivitamin, Woman 40+ Veg Caps is a multivitamin, mineral and phytonutrient combination that blends specially formulated nutrients balancing the needs of women aged over 40.
Featuring Pomegranate extract, Resveratrol from Red Grape Skin extract, Green Coffee Bean extract, balanced B-complex, chelated minerals, gentle forms of iron and vitamin C, important trace minerals and carefully selected botanicals providing appropriate phytonutrients for this age group.
B complex vitamins (B1, B2, B3, B5, B6 & B12) contribute to the reduction of tiredness and fatigue, to normal psychological function and mental performance, energy-yielding metabolism, the regulation of hormonal activity, the functioning of the immune, cardio and nervous systems and the maintenance of normal skin, mucous membranes, vision and red blood cells. B complex vitamins also contribute to the protection of cells from oxidative stress. This 'oxidative stress' appears to be a major factor in many human diseases.
Take daily alongside Woman 40+ Omega Oil from Viridian Nutrition.
Directions: As a food supplement, take two capsules daily with food, or as directed by your healthcare practitioner.
Two vegetarian capsules provide:
Ingredient
Weight
Grape Skin Extract (10% Resveratrol)
100mg
(Providing 10mg of Resveratrol)
Green Coffee Bean Extract (45% Chlorogenic Acid)
100mg
Pomegranate Extract (40% Ellagic Acid)
100mg
Vitamin C (from Magnesium and Calcium Ascorbate)
130mg
Magnesium (Ascorbate and citrate)
20mg
Seagreens® kelp (Ascophyllum nodosum)
100mg
Vitamin B5 (Calcium Pantothenate)
80mg
Beta-carotene (from Dunaliella Salina Algae)
5mg
(Providing vitamin A 833ug)
Lutein Extract (5% Lutein)
60mg
(Providing 3mg of Lutein)
Calcium (Ascorbate and Citrate)
10mg
Vitamin E Natural (D-Alpha Tocopherol Succinate)
50IU
(Providing 33.55mg of Tocopherol)
Vitamin B6 (Pyridoxine HCl)
30mg
Vitamin B1 (Thiamine HCl)
25mg
Potassium (Citrate)
10mg
Alpha Lipoic Acid
25mg
Vitamin B2 (Riboflavin)
25mg
Vitamin B3 (Nicotinamide)
25mg
Co Enzyme Q10
20mg
Zinc (Citrate)
5mg
Horsetail (Equisetum arvense) Extract (4:1)(2% Silica)
15mg
Iron (Bisglycinate)
3mg
Choline (Bitartrate)
5mg
Selenium (Methionine)
55ug
Boron (Sodium Borate)
1mg
Inositol
5mg
Vitamin D3 (400IU)
10ug
Manganese (Citrate)
1mg
Copper (Citrate)
1mg
Vitamin K1
50ug
Folic Acid
400ug
Chromium (Picolinate)
50ug
Iodine (from Seagreens® kelp and potassium iodide)
150ug
Molybdenum (Ammonium Molybdate)
50ug
Biotin
50ug
Vitamin B12 (Methylcobalamin)
25ug
In a base of alfalfa, spiruliana and bilberry
Vegetable cellulose (HPMC*) capsule
120mg
(*Hydroxypropylmethyl cellulose)
---
Important Note: Before use (or consumption if applicable) please always check the label/leaflet/manual of the product for allergens!



---
Buy real Viridian products in the United Kingdom
Our UK Health Shop sells real Viridian and other Female Health from top-quality brands safely online to customers throughout the United Kingdom in England, Wales, Scotland and Northern-Ireland.
View more products on the Online Health Food Store from Viridian.
---
Where to buy Viridian Woman 40+ Multi - 60 caps safely online?
Shop at the Online Health Food Store if you are wondering where you can buy Viridian Woman 40+ Multi - 60 vegetarian capsules safely online in the United Kingdom.
Our Health Shop is located in the UK and our award-winning independent has been serving customers in England, Wales, Scotland and Northern-Ireland since 1976. You can buy our Female Health online and we post out orders to any UK address.
---