Viridian High Five Multivitamin 60's
Buy Viridian High Five Multivitamin and Mineral Formula - 60 capsules safely from our Online Health Food Store UK
Brand:
Viridian
Stock:
Currently out of stock!
---
Price:
---
---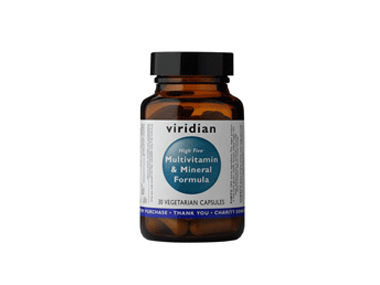 Viridian High Five Multivitamin and Mineral Formula - 60 capsules
High Five Multivitamin and mineral supplement
One-a-day best-selling multivitamin and mineral from Viridian Nutrition. The 'High Five' refers to the higher level of Vitamin B5 (pantothenic acid) found in this formula. Vitamin B5 contributes to normal mental performance and a reduction in tiredness and fatigue. Vitamin B5 also contributes to the normal synthesis and metabolism of steroid hormones, vitamin D and some neurotransmitters.
Features buffered vitamin C, natural source vitamin E, vegan vitamin D, natural source carotenoids, balanced B-complex, fully-reacted chelated minerals including Selenium, Chromium, Iron and Zinc, Selenium contributes to normal maintenance of hair and nails, the normal function of the immune system, normal thyroid function and for the protection of cells from oxidative stress. This 'oxidative stress' appears to be a major factor in many human diseases. Chromium contributes to the maintenance of normal blood glucose levels. Iron is essential for the healthy production of haemoglobin and red blood cells.
This formula contains iron bisglycinate, a form of iron that is gentle on the digestive system. Iron contributes to the reduction of tiredness and fatigue and contributes to normal cognitive function. Zinc is a mineral essential to many body processes including the maintenance of normal cognitive function, vision, fertility and reproduction, hair, skin and nails and the immune system. Zinc also contributes to the normal metabolism of fatty acids and macronutrients.
This formula is copper-free.
Ingredients:
Pantothenic acid (Vitamin B5 as d-Ca pantothenate) 150mg
Magnesium ascorbate providing: Ascorbic acid (vitamin C) 100mg/Magnesium 7mg 107mg
Natural Beta Carotene/Carotenoid Mix D.Salina (Equiv to Vitamin A 833ug) providing: Beta Carotene 5mg/Cryptoxanthin 39ug/Zeaxanthin 32ug/Lutein 25ug 5mg
Niacin (Vitamin B3 as Nicotinamide) 50mg
Kelp (providing Iodine) 25ug
Calcium (citrate) 10mg
Magnesium (citrate) 5mg
Vitamin B6(pyridoxine HCI) 25mg
Thiamin (vitamin B1 as thiamine HCL) 25mg
Riboflavin (Vitamin B2) 25mg
Grape seed extract 95% proanthocyanidin 20mg
Zinc (citrate) 5mg
Selenium (L-selenomethionine) 50ug
Potassium (citrate) 2mg
Choline (bitartrate) 5mg
Inositol 5mg
Iron (bisclycinate) 1mg
Boron (sodium borate) 0.5mg
Vitamin D2 (ergocalciferol - vegan) 10ug
Folic acid 400ug
Chromium (picolinate) 50ug
Vitamin B12 (cyanocobalamin) 50ug
Biotin 50ug
in a base of alfalfa, spirulina and bilberry
---
Important Notes:
- Products labelled gluten free, egg free and/or dairy free may still contain traces of allergens.
- Before use (or consumption if applicable) please always check the label/leaflet/manual of the product for allergens!



---
Buy real Viridian products in the United Kingdom
Our UK Health Shop sells real Viridian and other Multi-vitamins from top-quality brands safely online to customers throughout the United Kingdom in England, Wales, Scotland and Northern-Ireland.
View more products on the Online Health Food Store from Viridian.
---
Where to buy Viridian High Five Multivitamin 60's safely online?
Shop at the Online Health Food Store if you are wondering where you can buy Viridian High Five Multivitamin and Mineral Formula - 60 capsules safely online in the United Kingdom.
Our Health Shop is located in the UK and our award-winning independent has been serving customers in England, Wales, Scotland and Northern-Ireland since 1976. You can buy our Multi-vitamins online and we post out orders to any UK address.
---