Health Aid Biotin 800ug 30's
Buy Health Aid Biotin 800ug (mcg) - 30 vegan tablets safely from our Online Health Food Store UK
Brand:
Health Aid
Stock:
1 in stock
---
Price:
---
---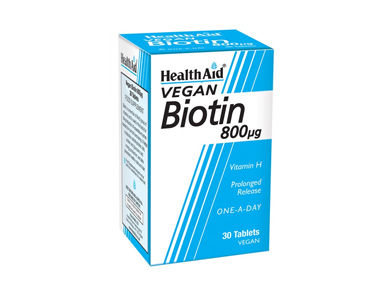 Health Aid Biotin 800ug (mcg) - 30 vegan tablets
Biotin is a member of the B-vitamins that is used by the body for the production of various enzymes which helps body metabolise fats and proteins. It plays a special role in helping the body to use glucose (its main fuel) and promote healthy nails and hair.
What Are Biotin 800µg Tablet For?
Required for various metabolic processes in the body
It functions in the metabolism of fats, carbohydrates and also in the breakdown of protein
It may help maintain normal blood sugar level.
Helps maintain healthy hair and nails
Assists the body to deal with stress efficiently
Supports the maintenance of optimum energy levels
Who Are Biotin 800µg tablet For?
Those who need to increase their energy level
People under stress to help the mind and body cope better
Those who consume large amounts of alcohol
People suffering with hair loss or hair related problems
When Should I take Biotin 800µg Tablets?
Biotin 800µg Tablet is best to be taken in times of additional stress, for increased energy and hair loss.
Each Biotin 800µg tablet contains (average): %NRV
Biotin 800µg 1600
*: EC Nutrient Reference Value Not Yet Established
INGREDIENTS FOR BIOTIN 800µg TABLETS:
Bulking Agent (di-calcium phosphate, microcrystalline cellulose), Anti-caking Agent (veg. stearic acid, veg. magnesium stearate), D-Biotin.
Recommended Daily Intake of Biotin 800µg Tablets:
Adults and children over 12 years of age, one tablet daily. Do not exceed recommended daily intake unless advised by a suitably qualified person.
** Free From Yeast, Gluten, Wheat, Soya, Dairy, Sugar, Salt, Artificial Colours, Preservatives & Flavourings
** Food Supplements should not be used as a substitute for a varied diet
---
Important Notes:
- Products labelled gluten free, egg free and/or dairy free may still contain traces of allergens.
- Before use (or consumption if applicable) please always check the label/leaflet/manual of the product for allergens!
---
Buy real Health Aid products in the United Kingdom
Our UK Health Shop sells real Health Aid and other Vitamins A - Z from top-quality brands safely online to customers throughout the United Kingdom in England, Wales, Scotland and Northern-Ireland.
View more products on the Online Health Food Store from Health Aid.
---
Where to buy Health Aid Biotin 800ug 30's safely online?
Shop at the Online Health Food Store if you are wondering where you can buy Health Aid Biotin 800ug (mcg) - 30 vegan tablets safely online in the United Kingdom.
Our Health Shop is located in the UK and our award-winning independent has been serving customers in England, Wales, Scotland and Northern-Ireland since 1976. You can buy our Vitamins A - Z online and we post out orders to any UK address.
---